RCS-M3500UP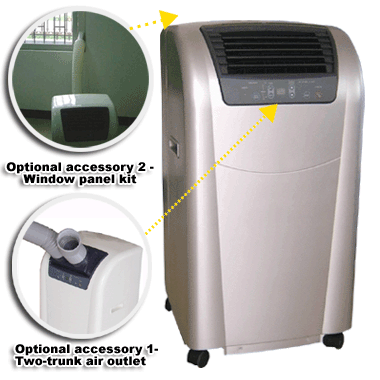 Main features :
Compact and powerful design.
Environment-friendly refrigerant R-290.
Micom-control with remote control.
Built-in rotary compressor, high efficiency and saving energy.
Auto-louvre oscillation for even distribution of cool air.
Timer setting 24 - hour on / off Timer.
Temperature settings - 18 ~30 ℃ .
Recycling condensate water for a better cooling effect and higher efficiency.
Air volume - 3 speeds.
1.5m exhaust duct kit for hot air disposal.
CE/GS/EMC approved.


RCS-M3500UA
Model type and number
PORTABLE TYPE RCS-M3500UP
RCS-M3500UP
Rated Cooling capacity
Btu/hr
12000
Rated Cooling capacity
kW
3.5
Rated Power Supply
Volt/Hz
220~240V / 50Hz
Rated Power consumption
W
1230
Thermostat range
℃
18~30
Fan speed
3
Refrigerant
R-290
Dimension Unit
Width (mm)
450
Height(mm)
840
Depth (mm)
380
Dimension Packaging
Width (mm)
520
Height(mm)
1100
Depth (mm)
450
Container load
20'
112
40'
234
Weight
Net (kgs)
38
Gross (kgs)
41
Cooling capacity estimated by European ErP directive and standard EN 14511.
Capacities and values shown above may vary according to local environment and conditions.